Meet Kaelah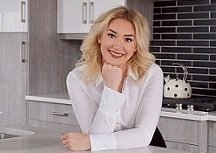 My interest in real estate began at a very early age. Growing up with parents who would Build and Sell for profit, I moved over 10 ten times before even graduating high school. Picking the color for my new bedroom was always one of the major highlights of my childhood. After building my own first home at 25 years of age, that is when my true passion set in and I knew that my love for real estate was something I had to pursue.
I graduated university with a Bachelor of Commerce degree triple majoring in Marketing, Human Resources and Industrial Relations and later completed my certification as a professional photographer years later.
Prior to becoming a licensed real estate agent I spent 7 years working for Oil and Gas majors in the Human Resources and Marketing departments in downtown Calgary. This industry however, was not meant to be my forever, as my heart was telling me to follow my true passion, real estate.
I am truly dedicated to providing my clients with the highest quality service possible. I make it my business to truly understand you as the client, your unique needs, personal style and preferences.
My passion for architecture and interior photography enables me to have a keen eye and strong attention to detail to help homeowners find and/or create their perfect fit.
My focus is always the needs of my client and to make the process fun, stress free with the utmost loyalty and care.